The marquis de sade's friend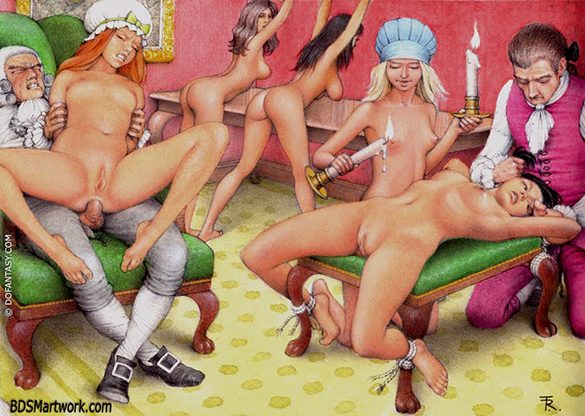 The Lord Caine provided many a "useful" service to his peers and fellow noblemen throughout the countryside. Among those services, which included such things such as procurement and training, was his most requested of all: obedience training! There were, after all, many a farmgirl or arrogant maid who thought herself above the "invitations" of their lords and masters. Many of these girls needed to be taught an awful reality: that they were nothing more than pieces of meat to be used as their betters saw fit!
"Not so tough now, are you?" one of Lord Caine's friends, Lord Krebs, asked, clutching at a milkmaid Sylvia's hair so tightly, he almost ripped it from her scalp! The girl screamed, not just from the brutal tugging on her hair but also from the hot wax dripping down upon her tender flesh! Her lord and master, Lord Krebs, merely laughed. "I bet you felt quite high and mighty when you doused me with your milk pail! But now look at you! I bet it doesn't feel so good being covered in 'milk' now does it?"
The maid Sylvia huffed and puffed and glared at her lord and master, Lord Krebs. "Go to hell!" she shouted, struggling wildly against her bondage.