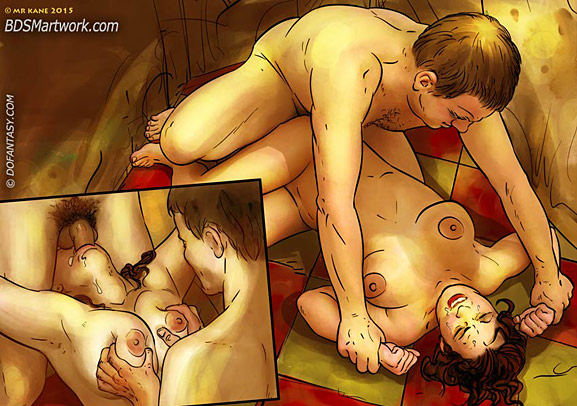 After the fucking came the fighting with wooden training swords. The German warrior was a match for any of the men, but the other women, mostly ex-whores, were better at fucking and pretending to have orgasms.
In combat the women took slaps on their naked breasts or buttocks over and over again. But they did sometimes slap a man on the cock or balls. The gladiators were not used to training naked and they sometimes forgot to protect themselves.
If a woman fought especially badly she was punished in front of all the others. She had to sit on the ground with her legs wide apart and then put her arms back and lift her bottom off the ground like a crab. In this position her cunt lips were open and her breasts were naked and defenseless…
Drusila chose two gladiators to work on the woman. One slapped her on the cunt with his wooden sword while the other slapped her naked breasts. If her bottom touched the ground she was taken to a table where she sat on a gladiator's cock, facing him, and rode him. Then they pulled her head down and the second man fucked her ass.