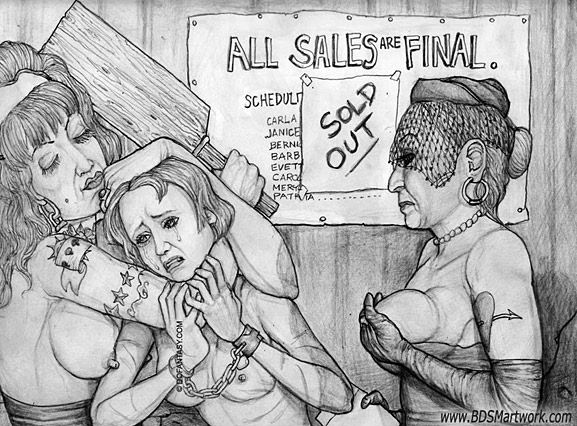 Twenty year-old Irene had always been a nice, decent girl. The kind of girl who obeyed her parents every wish and volunteered to help those in need. Just the kind of innocent young thing that the Penance club was most interested in. Irene was fated to pay penance for having such a good stable life and also pay for being such an innocent in a world in which most of it's inhabitants are selfish or evil or both.
Irene's protests against her treatment served only to make things harder on her; the Penance women enjoyed hurting her and making her accept her place. But those experienced ladies knew that pain and suffering weren't enough to overcome Irene's learned and innate innocence; only when she was subjected to repeated and nonstop humiliation and realized the hopelessness of her situation would she be ready to begin her new life as a whore.
For the next phase of Irene's training, Wilbur had been chosen to help prepare her. Wilbur. Short, dumpy, doughy and dim-witted Wilbur. Wilbur drooled and couldn't carry on a decent conversation, but Wilbur had a fat, ten-inch cock and a set of low-hanging balls that seemed to churn up an almost endless supply of thick cum that made him a terrifying late-night visitor to any slavegirl's cell. And even more of a horror to Irene when she was given to him to share his cell and serve as his steady girlfriend.
We advise you to treat Wilbur well, they told Irene. He gets frustrated easily and can get very unpleasant if he doesn't get everything he wants from a girl. That's why he was in that asylum for the criminally insane where we found him.
Irene could only tremble fearfully that night when Wilbur came back to his cell to meet his own personal girl. "Wilbur hurt you," the slug-like man muttered, drooling. "Then Wilbur fuck you."
"No! No, Wilbur! You don't need to hurt me," Irene pleaded. She desperately laid down on the stained mattress and spread her legs.