The preacher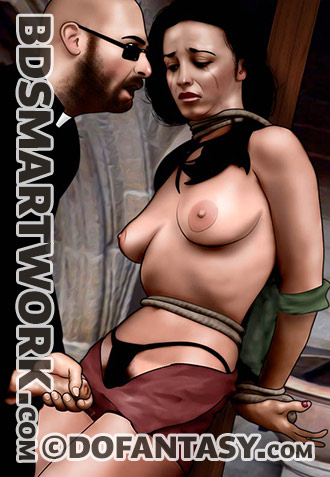 Brother Henry had been in the Church of the Chosen for six months now and he was very happy. The religious side had never been a problem. The sect had written their own holy book which was easy to study and easy to read in church.
The rest of his job involved tying up, flogging and fucking.
Henry liked to go slowly and talk dirty, often with his cock in his hand. This girl was new and he wanted to know more about her.
"Have you ever shown your breasts to a man of religion before?" he asked.
"No, Master."
She had learnt to say "Master" with the help of a bamboo cane on her naked buttocks.
"You weren't wearing a bra when you arrived," said Henry. "Why's that?"
"I don't always wear one."
"Is it to show your nipples under your top?"
"I suppose so… Master."
"When you wear one, what color is it?"
"Black."
"You should always wear a bra. Tits like these make men sin!"
Henry wet his finger and rubbed it slowly over both her nipples. Then he blew on them and watched as they wrinkled and became erect and tubular…
He picked up a cat o'nine tails with a knot on the end of its nine leather straps.
"I'm going to punish you for your naked breasts! Ask me to punish you!"
The girl looked confused.
"I haven't done anything wrong!" she said.
This page, at high resolution, is available for all my patrons on De Haro official website!