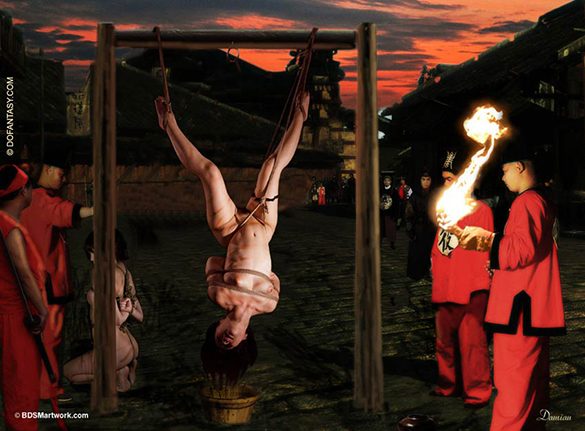 For as long as everyone could remember, there had been animosity between the Chinese and their Japanese counterparts. Though they were not currently at war, you could hardly call the relationship "friendly". But one thing the Chinese government knew they hated much more than anyone was citizens who spoke up against them. In order to increase the "effectiveness" of their police, the Chinese government sent 100 of their agents to Japan on a mission. Their mission was to learn the Japanese art of Shibari – rope tying, bondage. They learned a great deal.
Mei had been caught stealing, the local judge knew that she had hidden her treasure somewhere. To extract the information from her, he asked his most loyal interrogator to try out this new Japanese art. To judge how well it worked, all of the local Judges came to see the interrogation.
There, the woman was stripped, begging, before being tied and hung in the most creative ways. A bucket of water was sometimes thrown at her, or used to dunk her head in. Sometimes she was whipped..
"Please! Let me down! I promise you there is no more!" cried the woman…
This page, at high resolution, is available for all my patrons on Damian official website!