The Chinns breed yet another western girl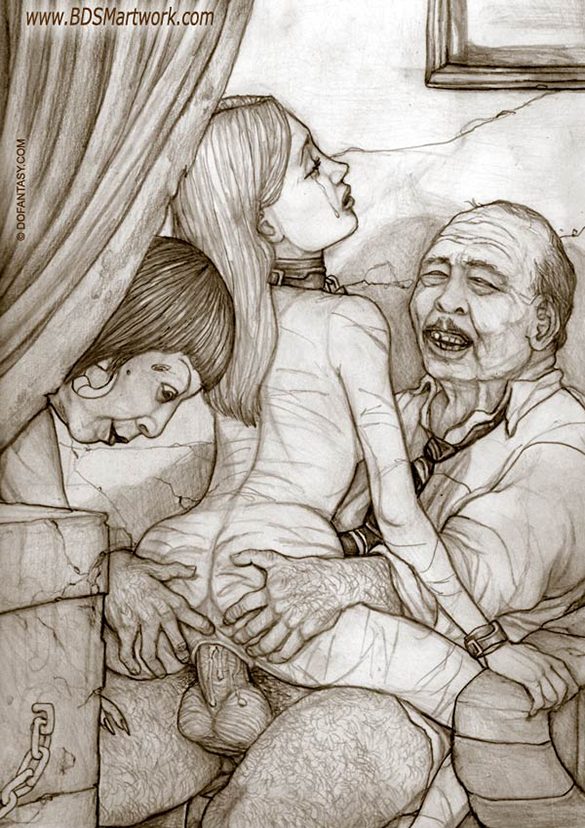 The was an already-large and still-growing demand for slaves in the Third World. Mr. Chinn and Mrs. Chinn, opportunistic entrepreneurs if there ever was one, realized the long-range economics of such a demand. Of course, the physical satisfactions and pure pleasures of this sort of business did not fail to impress them, either.
The demand for half-white female babies was huge. Once of age, those female babies would be perfect slave-female flesh; ripe to provide almost all slave-female talent as unpaid maids, house servants, fucktoys, brothel whores, sex-show sacrifices, breed-whores and even worse. Over the last year, the chins, through their wide range of contacts, had arranged the abduction and incarceration of some one hundred of the best-looking Western girls. Mr. Chinn loved Western girls; they resisted enslavement so fiercely at first but once broken, they were such compliant white sluts. They might cry but they would do it while bucking their pale hips, making Mr. Chinn's hard cock to do its own bucking, shooting its thick loads of baby-making cum.
As for Mrs. Chinn, she appreciated Western slave girls just as much, maybe more. She liked how they lost their pride after they experienced the agonizing distresses designed and directed especially by Mrs. Chinn. After being broken in and still being repeatedly raped by Mr. Chinn, those girls were so happy to show their humbleness to his wife – and they showed it by bestowing kisses, licking and sucking her sopping cunt and licking and sucking her pulsing asshole and widening their pretty mouth to accept whatever oozed out from Mrs. Chinn's own excited holes.
This page, at high resolution, is available for all my patrons on Hines official website!