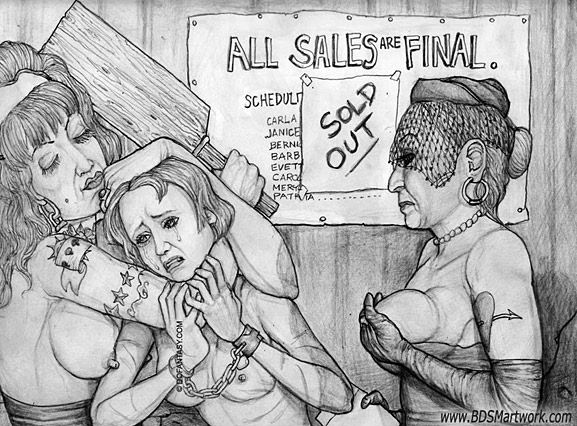 As her potential buyer looked on, Elizabeth, her young body in anguish from the long sessions under the paddle, squirmed a bit in the tight embrace of Madam Fifi. "I suggest you calm down and stop struggling, girl," the tall, big-boned and buxom red-haired trainer told her sternly. Otherwise I'm going to take you back to your cell and we'll resume where we left off! Would you like that?"
"N-No, Madam," Elizabeth answered meekly. The very thought of Madam Fifi's paddle doing it's work was enough to make her still and compliant to the Madam's grasp.
"Good girl. You know how happy it makes me when you're good. Now say 'hello' to Miss Rhonda."
"Hello, Miss Rhonda" Elizabeth answered obediently.