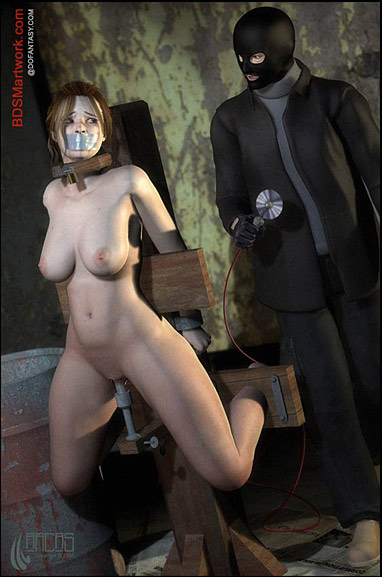 Loretta tried to look behind her shoulder, at her captor. He was standing at an angle, so that she could just barely see him. Tied up the way she was, her head and neck could only move a tiny little bit and it was hard for her to see what was next to her or behind her.
Marco had a lot experience tying up women, and he always stood here, where they could almost see him. Where they had to work to see him. He found making them strain to look at him was an important way to maximize fear. And fear was his favorite part of the job.
He buzzed the surgical saw in his hand for a moment, letting her hear it but not fully see it.
"Now the first thing you have to understand, you brainless cunt, is that your old life is over," said Marco. Loretta scanned the room in terror, searching for something to give her hope, but there was only Marco.
"Modeling, going to fancy clubs where the guys buy you drinks, your stupid dreams about an acting career… those aren't ever going to happen."
He stepped behind her and let her wonder how he knew so much about her.
"Now you're a sex slave," he said from behind her, where she couldn't see. He let his voice wash over her, letting each word sink in. "A fuck-puppet. A cum-dumpster. You're nothing but 3 holes that will pleasure whatever man wants to use you. You're going to spend every moment, from now until the rest of your life, being trained and used to better serve men."
Tears streamed down Loretta's chin. She shivered.