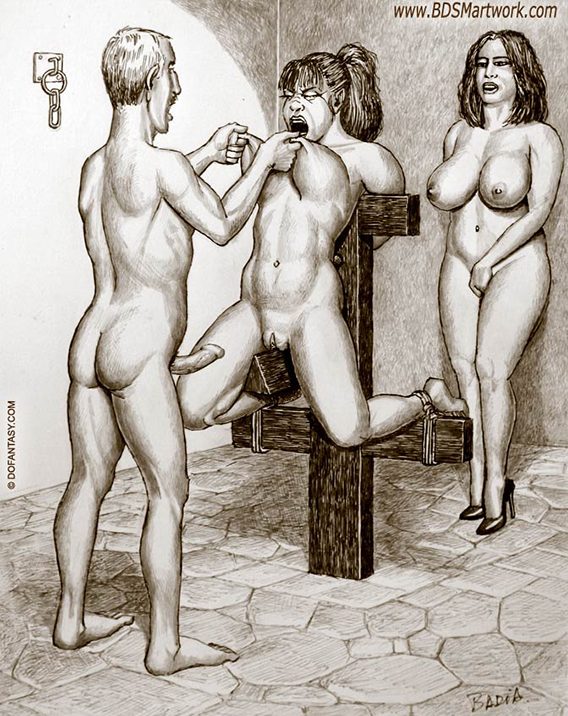 Vicky screamed like a banshee as her stepfather, Victor, began viciously pulling her up by the tits again! His fingers sank into her tender breast flesh like he was kneading dough, and he made sure to dig his fingernails into her nipples and aerolas at every opportunity.
"Ughhhnnnn! Please… Let me off! Please…" Vicky pleaded.
Vicky's thighs were trembling so hard that the sweat and cum pouring down them was flying off them like a spray. Her pussy was hovering above a vicious edge of wood. Her labia were dark red, even purple in some spots, from where she'd been forced to sit her entire bodyweight down on the wood. She'd been dancing this agonizing dance for nearly an hour now. Whenever the part of her pussy crushed against the wood would finally begin to go numb, Victor lifted her off the edge by her tits…
"PLEEASSEEEE! YOU'RE RUINING MEEEEE! I CAN'T HOLD ON!" Vicky shrieked. "MOMMMMY PLEEEASSSEEE! MAKE HIM STOPPPPP!"
The only response Vicky's mother gave her though, was a satisfied moan as she continued stroking her clit.
"Oh god, oh god, oh god!"
Vicky started hyper ventilating as she slowly began to lower herself down again…
This page, at high resolution, is available for all my patrons on Badia official website!