Dark vengeance IV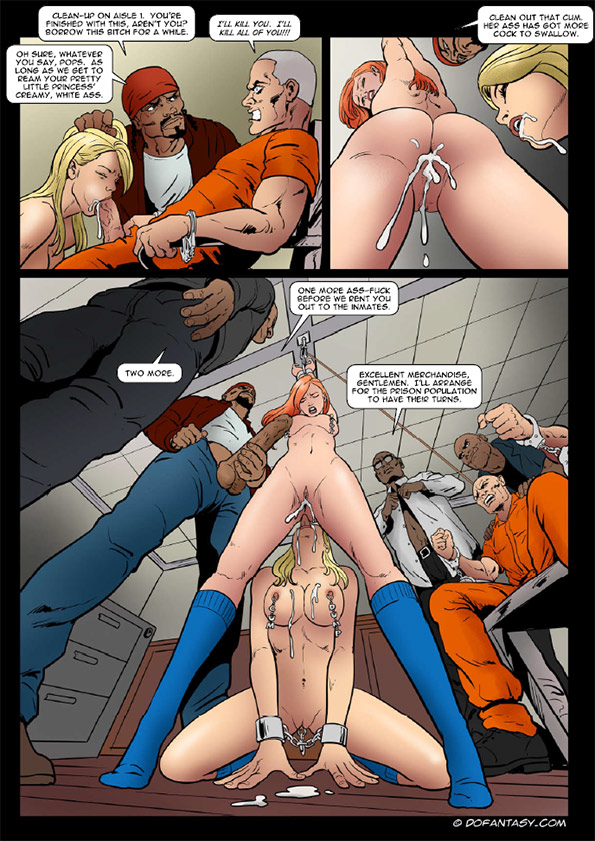 In the dark of night, a new shipment brings in some fresh inmates toward their new home: the prison block! But this is no ordinary prison. Run by the corrupt Archibald Bishop, this place is hardly a prison but instead a slaver's paradise where the warden pimps prostitutes to his captive audience. And wouldn't you know it, Tyrone and the gang are back in business, and Archibald Bishop is their first customer. He'll be pleased to see pretty Holly and Brooke, well trained and well heeled whores ready and eager to serve under pain of PAIN!
But Tyrone, Spike, and Dozer aren't here just to watch the ladies get banged in all their holes and cry like the little girls they are, though that's a nice bonus all the same. No, they're here to meet an old friend and remind him of days long past, when the fun truly began, in another life, in another time.
In the seedy underbelly of decadent Hollywood, another set of luscious ladies will meet their fate, whether they want to or not! "Invited" to the party by a waning movie star, the crimes that sent these three away will be committed before your very eyes in their complete and unmitigated depravity!
Sixteen years ago, the crimes that Tyrone, Spike, and Dozer commit are truly heinous! It sent them away for this long, after all.
Pretty CHASTITY MILLS will learn the hard way that her backwards views on black men are not welcome in this world. She will be humiliated, tormented, and forced to do unspeakable, vile things in order to survive. After all, her sister, Modesty Mills, is depending on her… even if Modesty doesn't know the real deal. Chastity Mills is the gateway drug to Tyrone's horrifying hellscape. A new adventure is just beginning in this amazing issue of FERNANDO'S DARK VENGEANCE 4!!!
This page, at high resolution, is available for all my patrons on Fernando official website!