Prison camp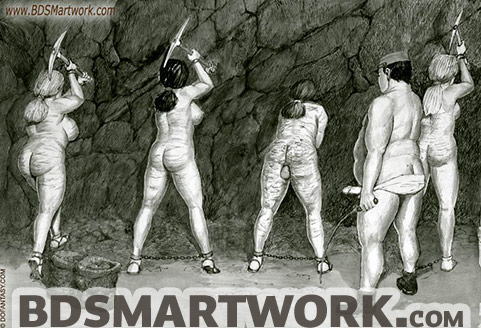 The chain gang was a hard life, and it was made harder still by Dominic, the overseer. He walked around in his gross, unwashed tight, white briefs with his cock hanging out like some kind of baboon. The girls didn't dare to say anything. They couldn't even if they wanted to. Their mouths were stuffed with massive, jawbreaking ballgags, silencing all complaints.
"Keep digging, you fucking sows! I know there's a vein somewhere here! If even one of you girls fails to meet your quota for today, you'll all be sent to the fuckyard where the male convicts will fuck you raw and screaming! Some of you might not even make it out alive…" Dominic said, his tongue lolling out sadistically while he stroked his throbbing cock. "Now… which of you pretties will be my fuckpet today?" he asked, walking behind the mining girls… watching their naked, shapely asses jiggle invitingly with each fall of the pick.
This page, at high resolution, is available for all my patrons on Badia official website!