Brainwashed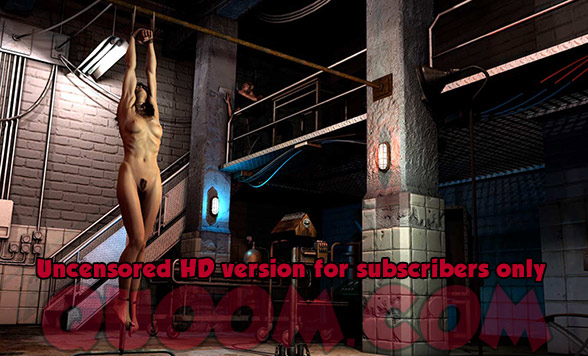 Drip … drip… drip … the permanently annoying dripping of a leaky faucet was her first perception. Followed closely by the pain! Neck and arms, shoulders and hinges protested so loudly against their intended treatment that she could barely avoid screaming. Shiva clenched her teeth, forcing herself to calm breaths to clear the mist from her head. Apparently she had been drugged, for how long she could only guess …
After all, their effect had diminished; she did not know if this was intented by her captors or not, but she certainly did not want to ruin a possible element of surprise – perhaps her only chance at all.
The bastards had hung her by the arms, and she had been hanging like that for a while now, following the pain of her elongated and overstretched arms. Her hands were completely numb, dead and she laboriously suppressed the temptation to move her fingers as a test.
The air smelled … bad! Blood, sweat with a hint of vomit and feces, barely covered with cheap, harsh detergent. And smoke, cigarette smoke! Not only stale but now a light breeze also brought fresh one to her. So she was not alone. Someone was here and certainly watched her.
With this realization, she suddenly noticed her nakedness. She could not feel any tiny bits of clothing on her skin! So she hung outstretched and completely naked in some goddamn dungeon and was extensively looked at by at least one, certainly drooling asshole.
She wondered if she already … well, she could not feel anything unusual between her legs and a quick blink also showed no visible traces.
"No matter, nothing felt, nothing happened, there are more important things now!" Again she opened her eyes a small slit. Her feet dangled an arm's length above dirty, spattered cement floors. A very sturdy-looking leather strap lay around her ankles, banding her with an iron grip that seemed to be bolted to the floor. The knots looked lousy, but were enough, as long as they did not touch their fingers … and those fingers hung like dead meat lumps two meters up. So there was nothing to do for now!
She forced herself to rest and listened. Breaths, creaking of a chair … it came from behind and a little way above her. Besides, she did not hear a single word, so after a while she was pretty sure that he was alone. After a while she could hear him stubbing out a cigarette. And it was not long before he lit a new one.