Safe passage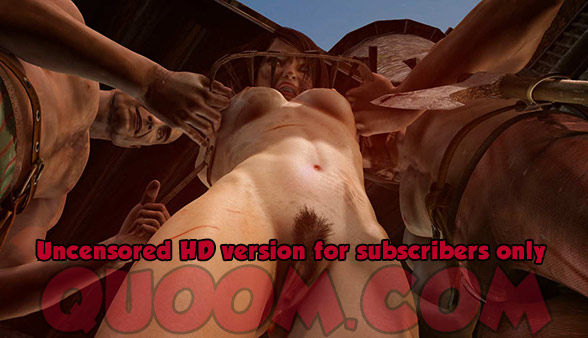 The two men holding the spike-studded leather strip approached the shaking Carmen, wrapping it around her body loosely, so that its spikes did not yet press into her chest. They cinched it behind her with straps on the top and bottom of both ends, so that the straps could easily be tightened to any degree desired.
"Your time to tell us the truth about your mission," Leandro warned Carmen, "and still have the beautiful breasts you and I am sure many others — have come to love is drawing short."
Carmen shook her head violently back and forth, over and over, and closed her eyes, trying to wake herself from this nightmare. But when she again opened her eyes, nothing had changed. The nightmare was real. Leandro still stood in front of her, and Dominick and one of Leandro's men behind, prepared to tighten the leather to whatever degree Leandro ordered.
Leandro waited a minute to allow Carmen's terror to build. "Yes or no?"
"I've told you the truth!!" Carmen screamed at him.