Goddesses, Queens and slaves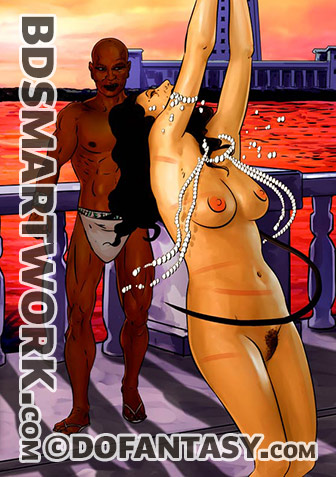 The music stopped suddenly and the slave stood still, her breasts and her buttocks lifted, offering themselves to the guests, who all applauded enthusiastically.
Ptolemy gestured to the guards and they took the dancer to the Emperor and pushed her to her knees in front of him.
"Tell me, slave, why have you offended the King of Egypt?" Ptolemy asked.
The girl looked him in the eye.
"I am not a slave, son of Ra. I am a free woman."
One of the guards slapped her face.
"Free? I don't think so!" said Ptolemy. "You have a foreign accent! Where are you from, slave?"
"From Judea, my lord."
"Ah," said Ptolemy. "If I am your lord, then you are not free!" He played a few notes on his pipes.
"You speak too boldly to your lord! But you are a good dancer. I would like you to dance again, for the entertainment of our illustrious Roman guests."
"It will be my pleasure, my lord."
"This time we will accompany the music with percussion and singing."
A muscular slave with brown skin appeared, carrying a whip. The guards tied the girl's wrists to a ring set in the ceiling.
Ptolemy the flute player blew on his pipes and the guard started flogging with his whip.
This page, at high resolution, is available for all my patrons on Mr Kane official website!